NY State Democrats: We should take away Cuomo's emergency powers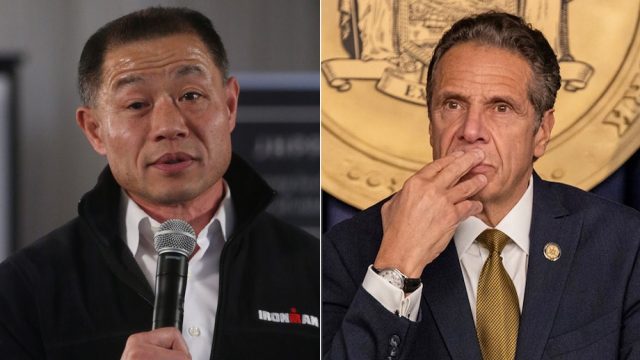 Watch the latest video at foxnews.com
New York State Democrat senator John Liu joined 'Your World' to explain why he and his colleagues want to rescind governor's emergency powers.
"As you well just reported, there have been lots of revelations in recent weeks and months and in particular last week, that raises significantly the level of concern that we have," explained Liu. "And it's also been almost a year since the governor had these emergency powers."
Cuomo has faced calls to resign since the Associated Press found that nearly 15,000 long-term care patients died of COVID-19 at nursing homes, up from the roughly 8,500 deaths previously disclosed.
"We gave precedence to the DOJ. We told the assembly that, we told the Senate that and that's what we did. We were also in the midst of managing a pandemic," Cuomo has since said.
"We granted him those powers in a time when we knew nothing about this pandemic and the in the extreme hardship and pure death that it would wreak on our state, our country in the world. Almost a year later, we now have much more information about covid-19 and we see the light at the end of the tunnel in the vaccine being distributed here in New York as well as around the country. And so the emergency powers that were given to him nearly a year ago just seemed to have outlived their usefulness."
But Senator Liu is not the only Democrat to come forward and directly push back on Cuomo. New York State Sen. Alessandra Biaggi, also a Democrat, addressed Cuomo saying: "No, @NYGovCuomo, you did not tell the *entire* Senate or Assembly that there was a DOJ investigation, as the reason why you didn't share the nursing home numbers," Biaggi said in a statement. "I found out about a DOJ investigation with the rest of NY'ers in the @nypost story Thursday night."
No, @NYGovCuomo , you did not tell the *entire* Senate or Assembly that there was a DOJ investigation, as the reason why you didn't share the nursing home numbers.

I found out about a DOJ investigation with the rest of NY'ers in the @nypost story Thursday night.

— Alessandra Biaggi (@Biaggi4NY) February 15, 2021
Listen and Subscribe to my podcast:
---